Say Hello to the Quickest, Safest, Mess-Free Fort!
At AirFort®, we believe that bringing fun into your household brings the family together. We pride ourselves in the quality of the AirFort® as a toy kids will play with for years to come. We believe that in order for a fort to be played with often it needs to be easy, convenient and really FUN!
AirFort® inflates in less than 30 seconds. When the kids are ready to play, simply attach your AirFort® to a floor fan and you're ready to go! Sets up in seconds, encourages play for hours!
And the best part? When it's time to clean up and put away, all you have to do is stuff the AirFort® into its own matching carrying bag (weighing only 24 oz) and it's ready for the next day of fun!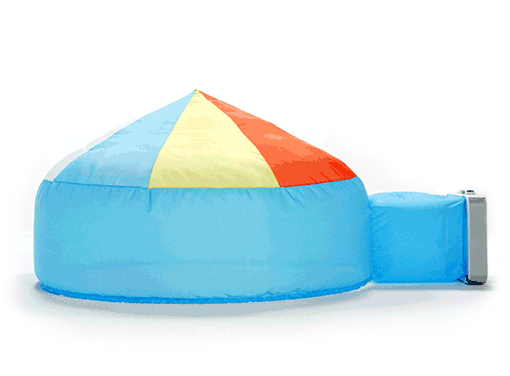 AirFort is Perfect for Kids and Families!
What kid (or even adult), doesn't love forts?!
Through hundreds of amazing reviews (thank you parents!), we've found that the adults are LOVING joining in on the AirFort® fun as much as their kids. Now you can enjoy fun quality time with your kids without destroying your living room!
The AirFort® is the best new addition to every play-date, movie night and slumber party. It's the toy kids use to play with all of their other toys!
No Pillows • No Sheets • No Mess!
✓ Sets up and Cleans up in Seconds!
✓ Durable & Breathable Construction!
✓ Works with Any Standard Box Fan!
✓ Includes Matching Bag for Easy Storage!
✓ No Assembly Required!
Starting at Only $49.95 Order Today
30 Day Money Back Guarantee
Meet the Father/Daughter Team Behind The Original AirFort®!
When Ed and Luciana Hanley first came up with the idea for AirFort, they had no idea that it would become a toy loved by thousands of kids across the country. Currently, they are researching the use of the AirFort with Autistic children because of its ability to provide a calming barrier from external stimuli.
Their goal is to provide kids with the most fun hideaway that allows their imaginations to run wild, while providing parents with a toy that is safe, fun, and doesn't make a mess!
"When my dad and mom had my three sisters and me, we were constantly tearing apart the living room to build messy furniture forts! Guess who always had to clean up the mess? Mom or dad! One day my dad decided to pull out my moms old sewing machine and make us girls our very first AirFort! It was the highlight of every play date and slumber party!"
– Luciana Hanley